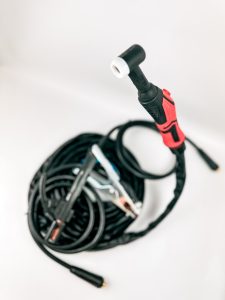 Uchwyt spawalniczy to jeden z najważniejszych elementów spawarki. Odpowiednio dbając o niego, możemy zwiększyć jego żywotność oraz trwałość, jak również zapewnić jego właściwe działanie podczas spawania.
Jak prawidłowo pielęgnować uchwyt spawalniczy? Przedstawiamy kilka wskazówek:
Regularnie usuwaj zanieczyszczenia z uchwytu spawalniczego (m.in. resztki spawu, rdzę lub zabrudzenia). Można to zrobić za pomocą specjalnej szczotki do czyszczenia uchwytów spawalniczych lub gąbki ściernej.
Po każdym użyciu uchwytu odkręć zacisk, który trzyma elektrodę, a następnie usuń resztki spawu, które mogą utrudniać przyszłe użycie uchwytu.
Sprawdzaj regularnie stan uchwytu i zacisku. Upewnij się, że zacisk mocno przylega do elektrody i nie ma na nim uszkodzeń.
Przechowuj uchwyt spawalniczy w suchym i czystym miejscu, aby uniknąć korozji i zanieczyszczenia.
Jeśli uchwyt spawalniczy jest uszkodzony, nie próbuj go naprawiać samodzielnie. Zamiast tego oddaj go do serwisu lub wymień na nowy.
Pamiętaj! Pielęgnowanie uchwytu spawalniczego jest bardzo ważne, ponieważ może wpłynąć na jakość spawania, a także na bezpieczeństwo użytkownika podczas pracy.
Sprawdź ofertę najwyższej jakości uchwytów spawalniczych w Spawalniczym Sklepie Internetowym Tomsystem>>